Proposal for:
Lyngen Municipality, Norway
Topic:
County's population increase
Response to:
Municipality's planning 2021 – 2033  
Reverse population decrease mentioned in the planning at:

2 Main features of the municipality
2.1 Lyngen municipality as a community

by supporting Sub-goal 1* of the Main objective** of

6. The municipality as an organization
6.1 Administrative organization  
And that is by employing one of the four strategies mentioned by the Sub-goal 1 namely: To carry out targeted and active marketing of the municipality.
*Sub-goal 1: Must be an attractive and inclusive municipality for settlement and business.

**Main objective: The political and administrative organization must reflect the goals, services and measures that are important for the desired societal development.

Introduction
I am Jozef, and last June, my wife Meline and I moved to Lyngseidet with the aim of building our lives in Lyngen and starting a family alongside all of you.
Currently, we are immersed in the process of learning your language and culture. I am hopeful that soon, I will be able to engage with you in Norwegian, just as Meline already does so proficiently. Please bear with me until that time comes.
I am reaching out today with a specific purpose: to offer assistance in addressing the challenge of bolstering Lyngen's population and reversing its decline.
Over the past decade, I have been involved with local communities in Sheffield, where I managed a project designed to bring individuals from diverse backgrounds together, fostering greater social cohesion. This initiative facilitated harmonious coexistence and collaboration within one of England's most culturally varied cities.
Furthermore, I have contributed to communication efforts as a graphic designer, delivering targeted messages to specific audiences and promoting sustainable growth across various organizations. If you're interested, I can provide you with more information about this aspect of my experience at a later point.
Through this platform, I am eager to present an idea that could potentially aid Lyngen in attracting permanent residents. Regrettably, I was unable to participate in the meeting held on October 4th at Grendehus, during which I had hoped to share this idea in person.
Without further delay, I would like to introduce my proposal.
Focused Communication Campaign 
As you are likely aware, Lyngen is in need of a younger population within the productive age bracket, individuals who are ready to settle down and start families in order to reverse the current decline in population.
One particular demographic cohort that merits attention is the Millennial generation, encompassing individuals born between 1981 and 1996 (currently aged 26 to 40 as of 2021). Millennials are a vital audience for Lyngen's sustained growth and prosperity. Positioned at an ideal stage in life, they are motivated by enthusiasm and energy, capable of transforming any locale they inhabit into a thriving community while also establishing their own families.
Hence, it is my belief that, alongside other endeavors, a comprehensive, long-term focused communication campaign should be implemented to capture the interest of specific target audiences and acquaint them with the allure of Lyngen. This entails offering appealing housing options, promising employment prospects, and pathways to integration within the local community (sub-projects that you may already have in progress). Additionally, meticulous analysis of the overarching 'Move to Lyngen' initiative's undertakings is crucial to navigate its trajectory and adapt priorities if necessary.
I acknowledge that your current strategies encompass various aspects such as boosting housing availability, fostering local business growth, enhancing public services, and advancing infrastructure development, all aimed at augmenting Lyngen's population.
However, I wish to emphasize the significance of promoting Lyngen as a means of population expansion. To the best of my knowledge, there appears to be a dearth of communication tailored towards specific demographic segments that could motivate them to relocate and establish their lives in Lyngen. This communication gap warrants attention and rectification.
Existing Information and Perceptions
First of all, people need to find out about Lyngen and its opportunities because a vast number of people are entirely unaware of the region. Some of them might have heard about Lyngen, especially those born in Norway, but they might not know much, and the information they possess could already be outdated.
Even we, as foreigners, had the opportunity to come across some outdated rumors from individuals living in Steigen and Troms og Finnmark.
According to some, there are many members of a quite radical Protestant sect in Lyngseidet and Lyngen overall, with some referring to it as an extreme one.
I happily responded to them and described our positive experience of living in Lyngseidet after a few months. We were warmly welcomed by quite a few people from the local community. I conveyed to them that what they know about Lyngen and Lyngseidet might possibly be a story of the past, if not a distorted narrative from the very beginning.
The depth of the focused communication campaign project you wish to undertake will determine its scope. However, it would be beneficial to assess the current perceptions of Lyngen held by others and accordingly adjust the communication strategy and the focused communication campaign.
Methodology
Audience Specification
For instance, Millennials, as mentioned above, could be the target demographic to capture attention. Another potential audience might include individuals who regularly visit Norway or Lyngen for holidays, as they might be predisposed to consider relocation.
Perception Mapping
Survey the current perceptions about Lyngen held by audiences residing in other municipalities.
Audience Needs Identification
Consider the needs of these audiences. For example, due to the pandemic, remote work has become prevalent. Many Millennials are inclined to continue working remotely. A high-speed internet connection is crucial for this group. Lyngen already benefits from a fiber connection by HomeNet and satellite internet by BigBlue.
Other identified needs might encompass proximity to major supermarkets, outlets selling local produce, diverse shops, markets, restaurants, cozy cafes, essential services like medical facilities, educational institutions, and more. Assure them that Lyngen caters to these fundamental requirements.
Strengths and Weaknesses Assessment
Engage with individuals who have recently moved to or returned to the region in the past 15 years to understand their motivations. Conversely, analyze reasons behind individuals leaving Lyngen and seek improvement opportunities.
Communication Channels Identification
Utilize various communication channels such as website articles, social media, newspaper features, and radio/TV interviews.
Success Metrics Establishment
Define criteria for measuring the success of the project.
Communication Production
Create online articles using targeted keywords to enhance search visibility. These articles can appear in search results for relevant phrases such as 'moving to Norway', 'Life in Norway', 'Bor i Lyngen', 'Liv i Lyngen', and more. Emphasize strengths, address weaknesses, and dispel any unfounded rumors while advocating for Lyngen.
Consider contributing articles to platforms like https://www.visit-lyngenfjord.com/ and https://www.lyngen.no/ to boost awareness and attract attention to Lyngen.
Collaborate with High-Traffic Websites
Write articles and share them with influential platforms, establishing partnerships. Platforms like https://www.visitnorway.com/ with substantial organic monthly traffic can help amplify your message. For instance, the articles can target people who frequently return to Norway or Lyngen for holidays, leveraging the existing relationship between them and the region.
By strategically implementing these steps, the focused communication campaign can effectively inform, attract, and engage the intended audiences, ultimately contributing to Lyngen's growth and development.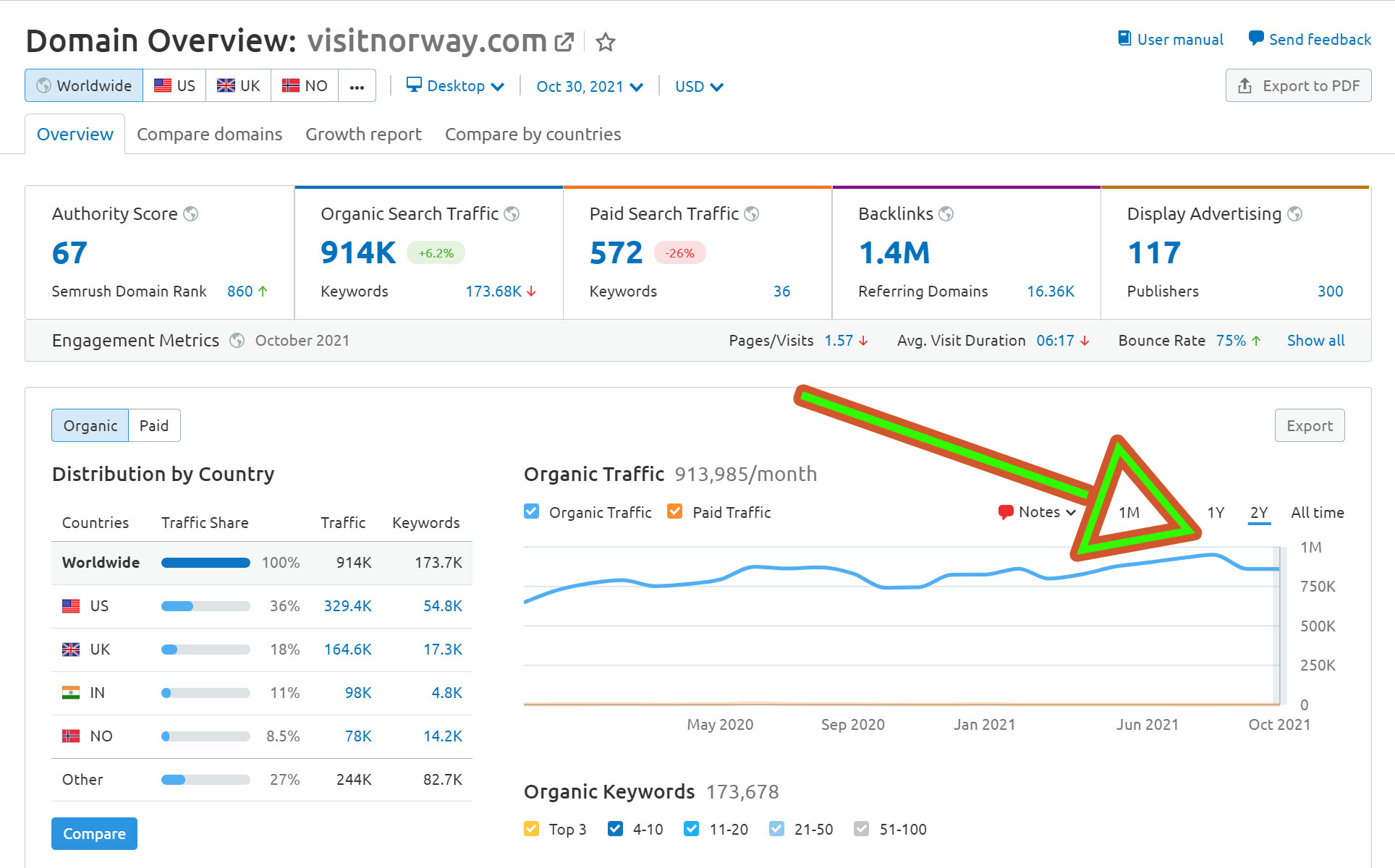 Domain overview of organic traffic coming to www.visitnorway.com every month reaching nearly 1 million visits
1 million visits is a significant number of people interested in Norway visiting the pages every month. There will be a percentage of people who are already contemplating a move to Norway, or at the very least, those who could be receptive to the idea in some form. Many of them might not be entirely certain about which place to move to at this stage, but your articles could assist them in learning more about Lyngen and making a decision.
In fact, the 'Visit Norway' website was one of the first sites we researched when we were considering moving to Norway, even before having visited as tourists.
Another frequently visited website with high online traffic, catering to like-minded individuals, is https://www.lifeinnorway.net/
This website is tailored to people who are pondering a move to Norway and provides valuable information for them. Concurrently, it caters to those who have already lived here for some time and might be considering relocation.
Online newspapers dedicated to informing individuals interested in Norway, who might not yet speak the language but have good traffic, include https://norwaytoday.info/ and https://www.thelocal.no/ These newspapers could also be considered as collaborative partners, and articles in line with their content can be supplied to them.
9.Lastly, revisit the criteria established for measuring the project's success
Analyze the data and make necessary adjustments if required.
Conclusion
Raising awareness about Lyngen and assisting people in making the decision to move to the region, as outlined in the briefly mentioned long-term focused communication campaign, could be integrated into the already existing sub-projects operating under the overarching 'Move to Lyngen' initiative. This integration would serve to complement and enhance their ongoing endeavors.
I would greatly appreciate the opportunity to meet with all of you and further discuss the aforementioned proposal, should you be interested.
Nevertheless, I thoroughly enjoyed delving into this topic and preparing it for your consideration.
Sooner or later, our paths may cross, and I look forward to that possibility.
With regards
Jozef