Proposal for:
Lyngen Municipality, Norway
Topic:
County's population increase
Response to:
Municipality's planning 2021 – 2033  
Reverse population decrease mentioned in the planning at:

2 Main features of the municipality
2.1 Lyngen municipality as a community

by supporting Sub-goal 1* of the Main objective** of

6. The municipality as an organization
6.1 Administrative organization  
And that is by employing one of the four strategies mentioned by the Sub-goal 1 namely: To carry out targeted and active marketing of the municipality.
*Sub-goal 1: Must be an attractive and inclusive municipality for settlement and business.

**Main objective: The political and administrative organization must reflect the goals, services and measures that are important for the desired societal development.

Introduction
I am Jozef who moved with Meline, my wife, to Lyngseidet last June to live in Lyngen with you and start a family here. 
At the moment we're learning your language and culture. Hopefully soon, I will also be able to talk with you in Norwegian, as Meline already speaks very well, so be with me until then.
The reason why I am getting in touch is in regards to help you to bring more people to live and work in Lyngen and reverse the population decline. 
For the last decade, I was working with local communities in Sheffield where I was running a project bringing people from various cultures together, to increase social cohesion. The project helped us all to co-exist and work together in one of the most multicultural cities of England. 
Also, I've been working in communication as a graphic designer to pass on messages to specified audiences and encourage sustainable growth in various organisations. You might find out more about it later if you like.
Via this page, I would like to share with you an idea that might help Lyngen to attract permanent residents, as I was unable to attend the meeting held on the 4th of October at Grendehus about the matter and share the idea with you there. 
Without further ado here it is.
Focused Communication Campaign 
As you well might be aware Lyngen needs younger people who are in a productive age settling down starting families, to reverse the population decline.
One of the demographic cohorts that describe groups of people born in certain periods having similar ideas, attitudes and milestones are Millenials born between 1981 and 1996 (26 and 40 years old in 2021).
The Millennials are the people, or audiences if you like, Lyngen might need to sustain and grow. They are at the right age, motivated with enthusiasm and energy to make any place they live a thriving place for all while setting up their families.
Therefore I think that it's important, among other activities surely, to also work on a long term focused communication campaign to attract the attention of specified audiences and tell them about Lyngen.
Offer them housing, work opportunities and possibilities to become part of the local community (sub-projects you might be already running) then carefully analyse all the efforts of 'Move to Lyngen' main-project to help to navigate it in the future and adjust priorities if needed.
I think that you have strategies in place to increase the population of Lyngen by supporting housing, local businesses growth, public services and developing a better infrastructure among others.
However, I would like to bring some of your attention to the importance of Lyngen's promotion to increase its population, as there is no communication at all oriented to the specified groups of people to encourage them to move and live in Lyngen, as far as I know.
What is known

First of all, people need to find out about Lyngen and its opportunities as there is a vast amount of people not knowing about the region at all. Some of them might have heard about Lyngen especially those born in Norway, but they might not know much and the information they have could well be already out of date. 
Even us as a foreigners had an opportunity to find out some outdated rumors from people living in Steigen and Troms og Finnmark.
By some we were told that in Lyngseidet and Lyngen overall are many members of a quite radical Protestantism sect some referring to as an extreme one. 
I happily got back to them and described our positive experience of living in Lyngseidet after few months, warmly welcomed by quite a few people from the local community, telling them that what they know about Lyngen and Lyngseidet possibly could be a story of the past if not a distorted story from the very beginning. 
It depends on the depth of the focused communication campaign project you would like to go in but it would be beneficial to map current perceptions of Lyngen by others and adjust the communication strategy and the focused communication campaign accordingly.
Methodology
1. Specify the audiences 
For example Millenials mentioned above could be the right people to attract attention of.
Another audience could be people returning to Norway and/or Lyngen for holidays every year as they might be already susceptible to move in.
2. Map current perceptions about Lyngen by the audiences living in other municipalities
3. Identify needs of the audiences
For example, as a consequence of the pandemic, major companies have adjusted their workplaces to either going full-time or part-time remotely. In the USA 61% of Millenials were working from home in 2020 during the pandemic of which about 55% were thinking to carry on working remotely after the pandemic.
Therefore a fast internet connection is essential for Millennials to come and be able to work.
I am glad to find out that Lyngen has already a fiber connection provided by HomeNet company. Even though our street in Lyngseidet is not connected to fiber we found an alternative and that's a satellite internet connection provided by the company BigBlue. They too supply a fast internet connection up to 100Mbps.
The other identified needs for example could be major supermarkets also selling local produce, other shops, markets, restaurants, small and cosy cafes, then general practitioners, dentists, nurseries, schools and other vital public services to let them know that all the basic needs will be met in Lyngen.
However, there still might be important needs we don't understand yet. Or needs that must be uncovered as they might be hidden under layers of seemingly unimportant ones.
4. Identify all the strengths and weaknesses of the region
One of the identifying opportunities could be to personally visit or get in touch in another way with the people who returned or moved to the area in the last 15 years and ask them why they have done so. This way we will find out what exactly is driving people to move in which should be amplified in the communication later.
It could be advantageous to also ask why are people moving away from Lyngen and see if there is anything that could be done with it.
5. Identify communication channels
Website articles/pages, social media, articles in newspaper, radio/tv interviews and so on.
6. Set criteria for measuring the success of the project
7. Produce communications
One of the ways to do it could be by producing online articles with specified keywords so they can appear in online searches results looked for by the audiences such; 'moving to Norway, Life in Norway' 'Bor i Lyngen' 'Liv i Lyngen' and other related keywords.
There you could amplify the strengths you've identified and work on the weaknesses and reverse possible rumors of the region, in the meantime. Simultaneously talk about the needs you've identified if they are covered by the municipality.
The articles could be written at https://www.visit-lyngenfjord.com/ and https://www.lyngen.no/ and similar to raise awareness about the region and bring traffic and attention to the websites advocating for Lyngen.
8. Write articles for high traffic websites and their social media
Ask the websites to share your story while creating new relationships and partnerships with them.
For example one of the identified audiences could be people returning to Norway or Lyngen for holidays every year who are one of the most susceptible to move in as there is already a relationship created between them and the country/region.
Therefore the mentioned articles could be shared with https://www.visitnorway.com/ which has nearly one million people coming to their website organically (without paid advertisement) in a month.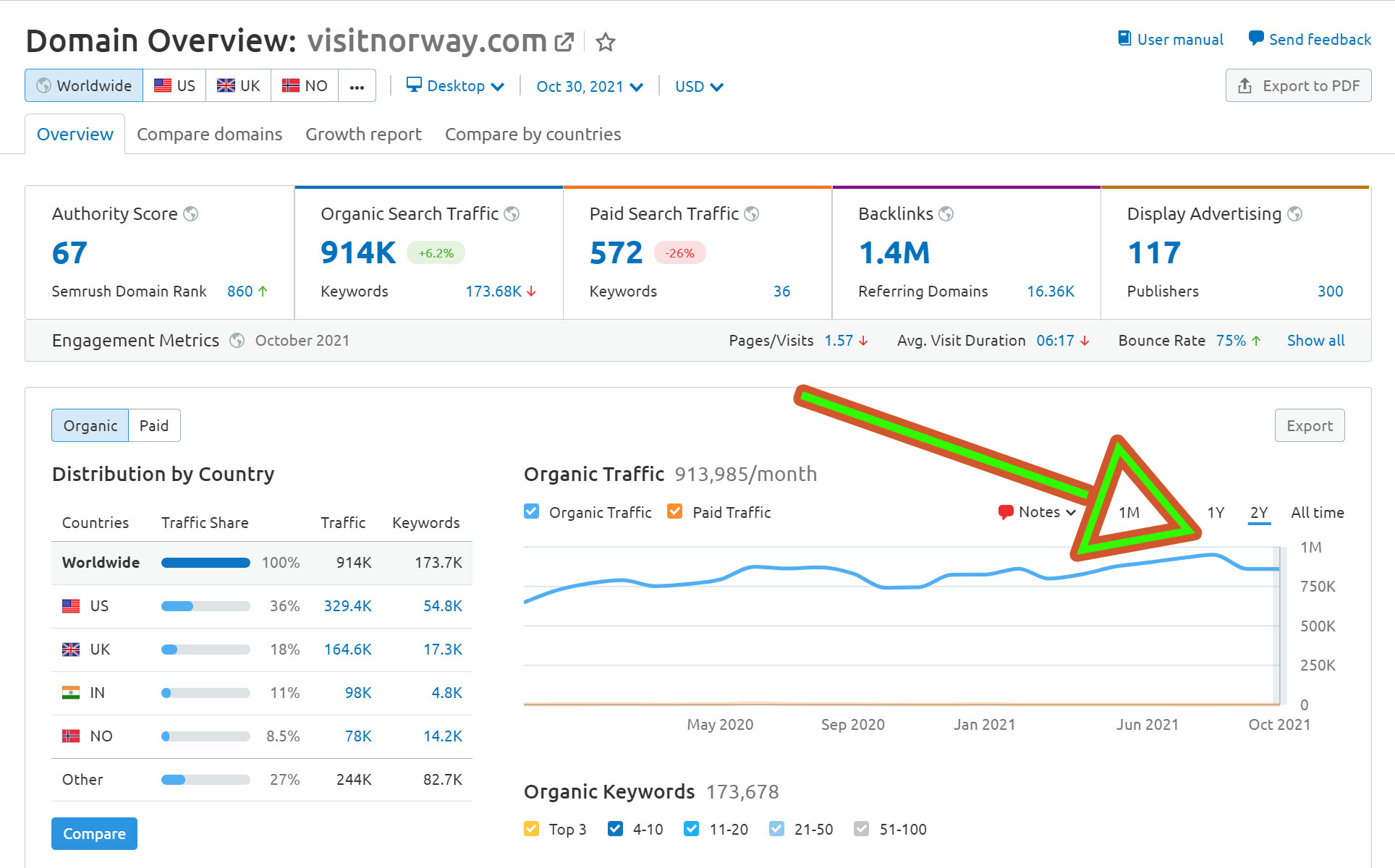 Domain overview of organic traffic coming to www.visitnorway.com every month reaching nearly 1 million visits
1 million visits is a very huge number of people who are interested in Norway visiting the pages every month. There will be a percentage of people who already think about moving to Norway. Or at least people who could welcome a seed of the idea one way or another. Many of them might still not be entirely sure which place to move to at this stage but your articles could help them to learn more about Lyngen and decide.
Actually, the 'Visit Norway' website was one of the first researched by us when we were considering moving to Norway, even without being here as tourists before.
Another often visited website with high online traffic by similar minded people is https://www.lifeinnorway.net/
The website is directed to people who are thinking of moving to Norway and produces valuable information for them. At the same time it is made for people who have already lived here for some time and could be thinking of a re-location.
Online newspapers devoted to inform people interested in Norway not speaking the language yet with good traffic are https://norwaytoday.info/ and https://www.thelocal.no/ The newspapers could also be considered as co-partners and supply them with articles they are after.
9. Lastly, go back to the criteria set for measuring the success of the project, analyse the data and make necessary adjustments, if needed
Conclusion
Raising awareness about Lyngen and helping people to decide to move to the region in the long term focused communication campaign briefly mentioned above could be a part of already existing sub-projects under the main 'Move to Lyngen' main project. And that is to supplement and strengthen all their efforts.
It would be great to meet you all and discuss the above if you're interested.
Nevertheless, it was fun for me to dive into the topic and prepare it for you.
Sooner or later might see you around anyway.
Greetings
Jozef 😊